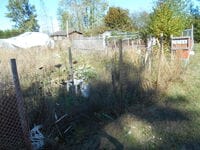 We started our new project on Bryn in 2016! We removed existing fence and two acres of blackberry bushes, which gave us access to a pond! We then established a 75 by 75 organic garden space by installing 7 foot fence posts and deer fencing. A big thanks to St. Michael's School students who helped erect the fence!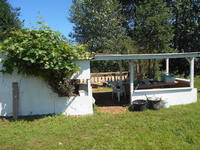 We then cultivated and rototilled the garden space, and planted 12 different types of tomatoes! Mostly quite a variety of cherry tomatoes. We also planted 2 or 3 scarlet runner beans, 12 different types of squash, and three types of potatoes. Additionally we planted peas, carrots, cucumbers, pumpkins, onions, zucchinis, and 50 or more polebeans.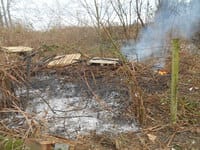 We cleared two acres of blackberry bushes, mostly by burning them, with the help of broken wooden crates that a local trucking company donated to us. We burned a few hundred crates to help eradicate the bushes!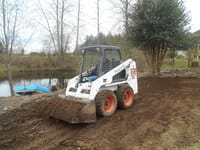 We used a Bobcat to remove the roots of the blackberry bushes and to landscape the area to have access to the pond! Then we built a 26- by 6-foot dock on the water's edge! We also used the Bobcat to build a road into the property.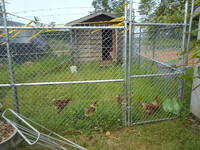 Our other projects included installing an eight-foot fence around an existing chicken coop, which we cleaned out, repaired, and painted. The fence is 50 by 5ft square. We then bought 21 laying hens and donated eggs to some of the different societies for children. We also tore down an old chicken coop (20 by 12ft), then built a new one.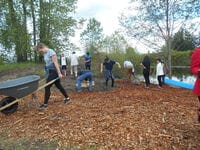 Other projects included building compost containers 6 by 4 feet by 4 feet high. Also we spread 120 yards of cedar wood chips to dress up the garden pathway. Then we used the chips around the areas that we landcaped around the pond. Again we would like to thank St. Michael's School for helping us with this project, especially coordinator Kevin Cook!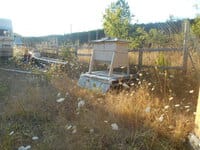 Our garden site includes honey bees. We have three hives each capable of producing 25 to 55 kilograms of honey per year. Also they are beneficial to the pollination of plants and vegetables in our area. The hives are a new design built by a local beekeeper Barry Danyluk.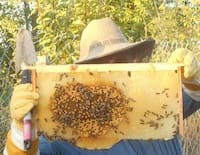 This was an inspection of the hive to determine whether the bees are in good health and what action has to be taken. To keep the honey bees healthy, we must add sufficient amounts of vitamins & various types of medicines to help keep them disease free.